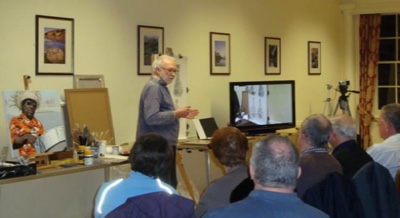 Geoff's relaxed and informative style makes him a popular demonstrator and workshop tutor.
Specialising in drawing and oil painting, with some mixed media, he travels throughout the north and midlands to art groups and art societies for half-day to multi-day sessions.
All his tutorials are tailor made for the needs of the group. If you are interested in discussing a demonstration or workshop please email well in advance of the proposed date.
Arrangements can also be made for private tuition or demonstrations to small, informal groups.
In 2018, Geoff was an invited tutor in the Hornsea Arts Festival.
Geoff is tutor to a local art group which meets in Willerby every Wednesday morning. Please email for further details.